No worker should have to suffer with pain or injury from a desk job when easy solutions are available!
We've helped thousands of employees like yours!
Do your employees struggle with discomfort?
Are you facing potential work injury costs?
Are you overwhelmed with trying to figure out solutions?
Does your business need an affordable safety program?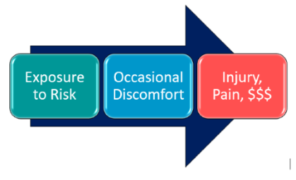 Help for YOUR employees starts here:
Best Value for Your Dollars
Get affordable help tailored to your business so you only pay for for what you need
No-cost, low-cost, mid-priced and top tier solutions
Quick Results in One Visit
Prevent expensive work injuries while improving employee comfort and morale
Get to the root cause of issues and quickly dial in proper adjustments and solutions
Provide effective return-to-work accommodations
Expert Help Finding the Right Equipment
Save time and money finding the right chairs and other equipment
Get assistance with special sizing needs or challenging workspaces
Create an approved equipment list for your business
Flexible Options
Ergonomic services are often limited to large companies with expensive programs. By creating flexible options, we made sure that high quality, affordable services are available to all companies.
Free Lunch and Learn
30 minute introduction to ergonomic services with workstation tips and tricks
Educational handouts with an optional discomfort survey to identify at-risk employees
Hourly Rate Sweep or Office Spot Checks (Not everyone needs a full ergonomic assessment)
Economical way to introduce effective ergonomic solutions to your business
Includes a risk assessment and report with lowest to highest cost recommendations
Can provide adjustments on the spot
Can be performed as needed or at yearly intervals as part of an ongoing safety program
Discomfort survey before and after to identify at-risk employees and document results
Can return for follow-ups, adjustments and wellness programs
One-On-One Ergonomic Assessments (For those with discomfort or equipment needs)
Mini or full assessments (choose on-site or virtual)
Discomfort survey and history
Assistance with proper adjustments or equipment
Report with tiered recommendations
Educational handouts and wellness strategies
Follow-up visit to ensure fit and comfort
Specialized Services
Assessments and support for Worker's Compensation Cases
Stay-at-work or return-to-work accommodations and support
Monthly, quarterly or yearly trainings, sweeps or follow-ups
Implementation of wellness and safety programs
Train the Trainer Program
Training for supervisors and safety personnel
Learn to identify at-risk employees
Learn simple tools to educate your employees
Learn to roll out prevention and safety programs
Learn how to manage common ergonomic issues
Learn proper communication and teamwork for addressing discomfort
Implement employee wellness programs that work
Click the options below and let's get your employees comfortable!